Hey all! So it's been crazy busy over here. I've been getting ready for a Craft Fair I'll be in very soon and time is just ticking away!  Plus I'm really looking forward to seeing my Daughter and Son-In-Law in a few weeks!!  Looking forward to that!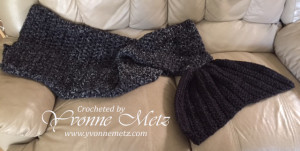 On to what I've been working on –
SO I've been seeing all these GORGEOUS Mermaid Blankets in a variety of colors and finally I broke down and made one!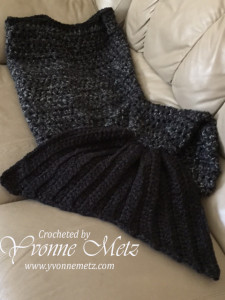 I absolutely LOVE how this came out!  So as you see mine is Black & Grey well I'm representing "Ursula" which most know is from the "Little Mermaid".
I had a lot of this yarn and well that's the first thing that popped into my head!  So right away I thought I've got to do the Evil Mermaid! LOL!
Extremely happy with how it turned out! Below in the next picture is the back of it.  So you see how to get into it! Talk about warm & cozy???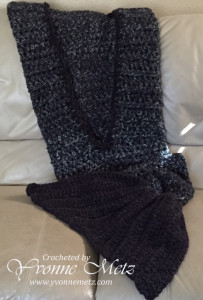 What do you think?  I know I'm for sure going be making more!  In colors of course!  With the Holiday's just around the  corner these would make GREAT gifts!  If you are interested I will take orders.   I'll be adding to my Etsy Shop very soon!
If you are a crocheter looking for this pattern you can find it HERE!  It's a great pattern and super easy to work up! Questions? Please comment here!
As always thanks for stopping by and Happy Craftin',
Yvonne Metz