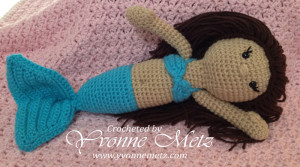 I'm back and ready to share my first Mermaid Doll I LOVE how she turned out!
For this one I used the following Pattern from Ravelry but I changed her Tail and I used this Pattern for that.  Oh and I added a belly button, not sure if you an see it that good! But I just had to try!
I also made up her Bra Top.  If you'd like to know how I did it please don't hesitate to ask me!  IT was super easy!  These will be going into my Etsy Shop very soon.  I've got one more to show you which I'll post tomorrow morning.  It is another great pattern and a super cute Mermaid!  So come back and check it out!  Thanks for stopping  by and as always….
Happy Crafting,
Yvonne Metz
Vista, CA.