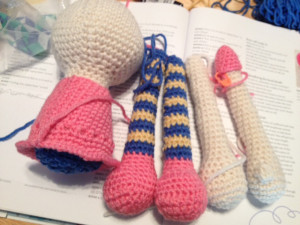 I'm baaack!!!  Any guesses yet to what it's going to be?
Well it's almost 8:00 pm over so it's time chill for the night!  I'm for sure going to finish this up tonight! I'm hoping to anyway!
Ok, seriously??? I am obsessed with getting this done!  So you can bet I'll be posting the finished project tomorrow!
I'll be honest I've got more done then what is showing in this picture!  Let's just say it's coming out super CUTE!
Thanks for stopping by and as always…
Happy Craftin',
Yvonne Metz
Vista, Ca.