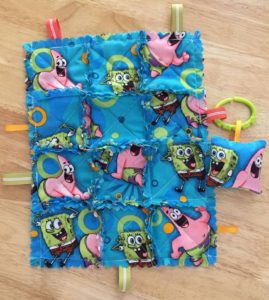 Ok, so I need to get on board with Blogging A LOT more! I mean between school, work, sports and the flu???  UGH! I'm just barely feeling a little better!
Geez I truly had not meant to be MIA for this long!  BUT I do have LOTS to share and I'll be sharing a little bit every day!
1st up is this SUPER cute "Mini" Rag Tag Quilt blanket and a Crinkle toy that I made with Sponge Bob Fabric!  Love how bright the fabric is!   I just need to wash it a few times to start the ragging process.   I had this fabric left over from making my daughter a Rag Quilt Purse.  I've got some more goodies up my sleeve!
Until my next share thanks for stopping, have questions please ask and as always….
Happy Craftin'
Yvonne Metz