Good Evening All!  Hope your Friday is a great start to your weekend!  Just wanted to share this super fun and easy crocheted scarf!  For those that crochet you'll not believe how easy this is.  My daughter saw one and looked for a pattern and couldn't find one so she asked me if I'd be able to make one!  This is what I came up with!  She loved it!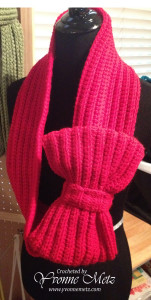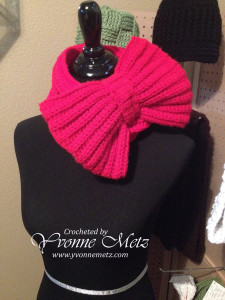 As you can see you can wear it a few ways!
How fun and trendy is this?  For those that know how to crochet you can get the pattern by clicking Scarf with Bow
If the link doesn't work let me know.  You'll see when you open it that it's super EASY to make.
For those that don't and would like to purchase one they will be available in my Etsy shop soon. Click on the Etsy link on the right if you don't see them yet please send me a customer order request OR contact me.  They will be listed soon.  But get your orders in early as the Holidays are around the corner!
If you have any questions with the pattern please don't hesitate to contact me.  I've never written up a pattern before.  The pattern is shared freely so please don't sell it!
Thanks for stopping by and as always….
Happy Craftin,
Yvonne Metz
Vista, Ca.