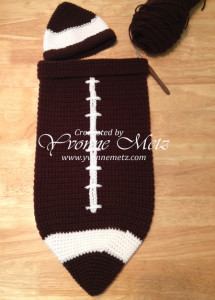 Hi Crafters!
Well I am done with my latest project! I was done a few days ago BUT needed to take pictures!  I have been wanting to make one of these Baby Cocoons for some time now. I am very pleased with the way it's turned out!
The materials used for this project are Red Heart Super Saver in White & Coffee and the hook I used for this project is Clover Brand Amour Crochet Hook 1049/J.  I normally use Boye hooks but lately I've been wanting to try out different types and styles.  You can see the image and link below.  I have to say it took me a little bit to adjust to it but once I got comfortable with it I loved how smooth it was. The handle has an easy grip too! I was able to crochet a lot longer which is always a PLUS!
Well now what will be on my HOOK next???? You'll have to wait and see – it's been something I've been wanting to make for some time now but just had to finish the "WIP's" I already had laying around!  Ok, I have one more BUT it's a knitting project! Does that count??  Oh well – thanks for stopping & as always…..