Happy Thursday All! Well I'm pretty please with how these Shark Slippers came out! My friend had posted them on my Face Book timeline and I just new I had to make them!
What do you think? I know something other then a Mermaid Tail Blanket right?!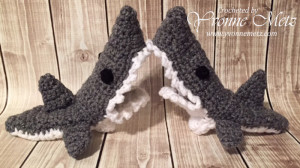 Working on a Shark Hat next! It's almost done. Just need to add the eyes. Of course I'll have to make a Shark Blanket too right? I mean it just wouldn't be right if I didn't!
For my crochet friends out there I bought this pattern on Etsy. Here is the LINK.
The are pretty tedious BUT I really like how they turned out. I'll be adding to my Etsy shop very soon!
Thanks for stopping by and as always.
Happy Craftin,
Yvonne Metz
Vista, Ca.