Hi again!  Well here we go…let me just say that the blanket itself is a Granny Square!  I made my square about 15 x15 which includes the border.
Ok, next I am sharing a link for the Elephant and the a link for the Banana. I can't post those directions for the banana since it's from a magazine.
So here are the Links – This one is for the Blankets with all the different ones you can make http://brittasami.blogspot.se/2012/03/baby-blanket.html and the next one is where I found the banana http://www.ravelry.com/patterns/library/sock-monkey-cuddle-blanket  If you have any problems with them let me know.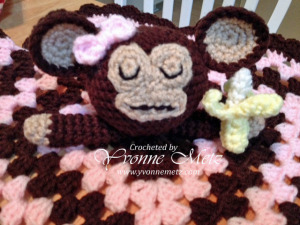 So now for my directions for the monkey's facial features:  I've never written a pattern so I'm going to do the best I can. They are pretty basic and easy I hope! Now you know we all have a different tension and I tend to crochet tight.
I used a size G Crochet Hook for all the features of the Monkey including ears and arms.
For the Head I used a size F hook.  This combo worked for me.  You'll just have to play around and see what works for you after you make the Head.