Hey Crafters!  Well first I hope you all had a great and safe 4th of July celebration for those who celebrated!  We spent it with Family & Friends and GREAT Food!  I'll have to share of course my Spinach Dip recipe but also that cake that was there! It was Yummy!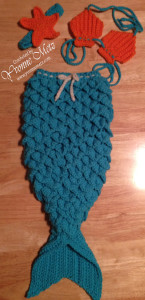 Well on to my finally finished project – Yes as the title of this post said Baby Mermaid Cocoon which I had been dying to make!  I have to say I'm very pleased with how this turned out too!
I found a great video on YouTube which I'll post the link below for those who maybe interested in making one! Don't be intimidated it's really easy once you get the hang of it. I had to change it up just a bit as I wanted my scales to lay just a little differently!
There are 3 videos 1 for the Body, 1 for the Bikini Top and the last for the Starfish headband! Click HERE for the Body part then you'll see the rest.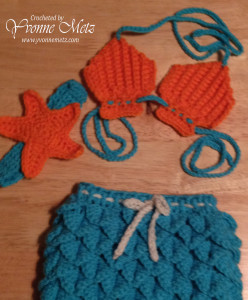 Materials I used for this project were all Red Heart Yarn – Colors in Turqua, Pumpkin and a little bit of Aran.
I just LOVE the Starfish Headband & The Shell Bikini top!  This would make a great baby shower gift and a super CUTE Photo Prop of your "Little Mermaid".
These will be in my Etsy shop soon as soon as I take just a little bit better pics! Just had to share before I call it a night!
Well that's it for now.  I'll be back tomorrow with the Yummy Spinach Dip Recipe! As always thanks for stopping by and…….
Happy Craftin,
Yvonne Metz
Vista, Ca.