Hey Crafters!  I know it's been a while BUT wait til you see what I've been up to!!!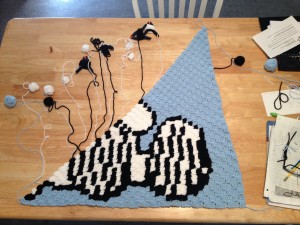 I wanted to share my latest WIP (work in progress) which I got started.  It's called a Corner to Corner or C2C Aghan in this case it's a Graphgan – what does this mean?  Well its going to be a Crocheted blanket starting in 1 corner and working your way up!  Graphgan – meaning it's going to have a type of photo in it.  NOW I have to say I have done something like this before way back in the day but it was done a little differently.  I've been seeing so many AWESOME Blankets with this and I'm finally attempting my own! Here's the progress! Any guesses as to what it's going to be?  I'll be posting more items so stay tuned! One in just a little bit!
***Now if you are a crocheter and are reading this I have a few Quick Questions – For those making Bobble-Ghans or C2C Graphgans which do you like better or which goes faster for you? AND which has less string mess.
Thanks for stopping by and as always,
Happy Crafting!
Yvonne Metz
Vista, Ca.