Happy Friday All –  Well I'm finally finished and I have to say that I stayed up til almost 2 am finishing HER!
This is my first Doll and I LOVE HER!  Not my first Amigurumi as I've made animals!  See the after math on my table last night??  Ok, so I am not showing you the WHOLE table! LOL! The book I used is in a link below.
Oh Man but it was so FUN making her!  I'm thinking I've got a new Obsession.  How can I not!  The possibilities are endless!  You know I'm going to HOOK me another one right?  You betcha!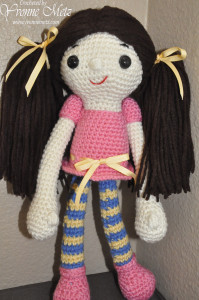 Here she is standing up! She's coming in at about 13″ tall!  Now what to name her?? HMMM……
My son likes the name Andrea "Lady A" then changed his mind to Makayla.  My daughter and son-in-law like Donna, Sophia, Aubrey then Madison "Maddy" – I'm kinda liking Maddy.
What do you think?  As always thanks for stopping by and…
Happy Craftin,
Yvonne Metz