So as promised I am going to share the recipe for making this absolutely delish Spinach Dip. It really is easy to make.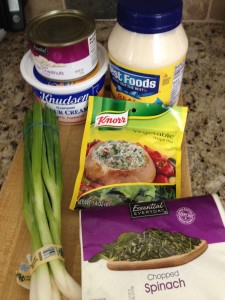 Here's a list of all the ingredients:
1 pkg of Knorr's Vegetable recipe mix
1 cup Best Foods Mayo or any brand you like. I don't recommend Miracle Whip as it just has a slightly different taste to me.
16 oz container of Sour Cream
1 pkg (10oz) Frozen Chopped Spinach
1 can (8 oz) water chestnuts, drained & chopped I buy the sliced if available.
3 green onions – I personally use the whole bunch. Which in this pic there are 6.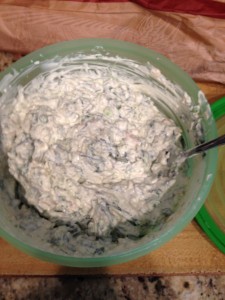 Ok, now looking at the directions it says to cook then cool the spinach. I don't remember reading doing that before & I've made this so many times! I just thaw it in the Fridge and squeeze out the excess water out.
Now just mix it all together I use a fork at some point to spread out the Spinach then let chill for at least 2 hrs. I normally like to make the night before.
Mix again with a Fork and this is very important you "MUST" taste test before serving to guests! ; ) Yup! You need to make sure it's edible right? It might take a couple of tries just to make sure!
I normally take this to my Aunt's house and she also has to taste test it BEFORE everybody else!  I try to serve it in a Bread Bowl like you see on the package BUT I honestly can never find them in my store so I usually buy 2 French Loaves and those work just fine!  So easy peasy right????  If you try this out you'll have to let me know what you think!  Enjoy and as always thanks for stopping by!
Happy Craftin',
Yvonne Metz
Vista, Ca.