Well here it is Sunday March 3rd, 2018 where did February go? WOW there was alot going on for me last month that's for sure. Things are finally slowing down and so I've got a few things that have been going on that I'd like to share with you all! 1st my friend Diana and I  have created another Facebook Group – I'm super excited to announce our New Group called "Amigurumi  Dolls Worldwide"  I've been wanting to do a Doll Group for awhile now and I thought it was only fair to drag her along with me since she dragged me to the Crochet Messy Bun  Group! LOL!
Anyway – in this Group we'll be sharing FREE Doll Patterns, Tips on Doll Making and we'll be doing a few "Crochet Doll A Longs" (CDAL) I'm super excited about this!  If you've been wanting to learn Doll Making OR are a Doll Maker and enjoy making them, then come an join our Group!  Our 1st CDAL will be on March 15th – I'll be making the videos also for those that are visual learners.
H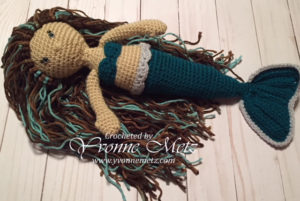 ere is what we'll be making first!  YES….the Mermaid Doll – she is my own pattern and I am absolutely in LOVE with her!  So click on the link above to join in.
If you don't have Facebook and would like to do the CDAL also come back on March 15th that's when the pattern will be posted as that's when it starts!
Thanks for stopping by and Happy Crafting!
Yvonne Metz