Well Thanksgiving is over and it's full Christmas mode now!  Hope you had a wonder Thanksgiving!  Didn't mean to be MIA for this long but have been busy with orders and just been a making machine adding more goodies to the store where I've got my items in.  Which I'm extremely grateful for.  The Gift Boutique & Home Decor (next to Levis) in San Clemente Outlet Mall is where my items are located. OF course in my Etsy Shop as well!  All of my Baby Hats sold out!  Super excited about that!  Here's what's going in this week!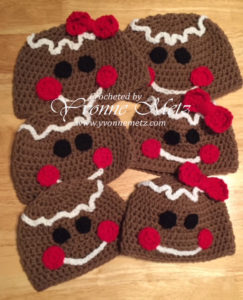 Seriously, doesn't this just put a smile on your face!  I'll show you a little later what else has been on my hook.
For those who also crochet this pattern if from Sarah at Repeat Crafter Me.  Not a crocheter and owuld like to order a hat?  Click on the Etsy Shop button to the right of the screen.
Thanks for stopping by and as always,
Happy Craftin',
Yvonne Metz