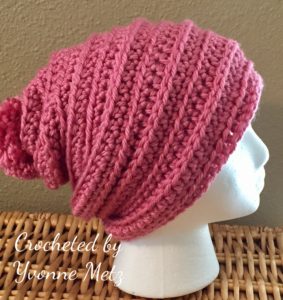 Seriously, not sure what's gotten into me. I'm no Designer but these just keep coming! Totally inspired by ALL the AWESOME talent out there!  So here is my latest "Just Chillin'" Beanie! It's so laid back and it's got that slight Slouch to it and of course a POM POM!  I've got a video in the works and will post it as soon as it's loaded.
But for now here is the Free PDF pattern – Just Chillin Slouchy
As I said I'm not a Designer by any means and this was made to fit a Teen/Adult I'm sure you can do any size just by measuring the length of the band.  I'll try and experiment with different sizes later OR if you have any ideas leave me a comment!  Questions about the pattern let me know this too!
Well Grandson is here so I'm off! Thanks for stopping by and as always…..
Happy Craftin',
Yvonne Metz