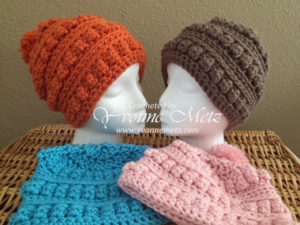 So as promised here is my new Messy Bun Hat Design! So this is very rare that I create a Design I normally test patterns for others! LOL! But here they are straight from my brain and inspired by so many hats I've seen!  Super warm and cozy.
I'm calling this The "BoHo Messy Bun Beanie".  Which was inspired by a member of a FB Group I'm in. I originally thought "Bohemian" but was like hmmm. I thought BoHo then as I saw a comment on my post suggesting the same name! Great minds think alike right?  Anyway I'm working on a video for this hat. Hopefully this week! It's super easy and FUN to make!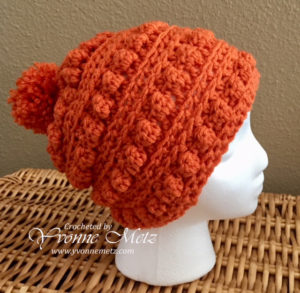 This one I used Red Heart with Love yarn #4 worsted in color Mango! Doesn't it just POP!  You can't tell from the photo but it's super squishy!  I'm just in love with this look.  It's got that casual but also Elegant look about it.  I'm thinking I see a matching scarf to go with maybe?  Oh yes I see it and Infinity style?  Hmmmmm…..sounds like another Design pattern in the making!
If you are interested in purchasing a Beanie these will be in my Etsy soon. If you are a fellow crocheter you can download your copy here! BoHo Messy Bun Beanie If you have any questions about the pattern or you find mistakes please let me know. Once you get the hang of it they are pretty fast to make.  As mentioned above I'll be doing a video soon so if you want to see the video (some of us are visual – I LOVE videos) then subscribe to me on YouTube so you know when I load the video.  The link is up above on the right.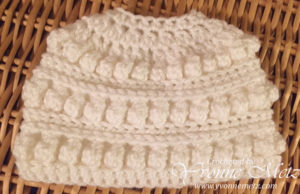 Lastly, here is a Messy Bun version which is in the pattern.  I mean you can't make a hat now a days without it being a Messy Bun too right?  This one uses Red Heart Essentials  yarn!
Stay tuned for the next one I'm going to share it's another one that was in my brain.  I will be sharing this a little later today so come back and check it out!
Thanks for stopping by & as always…
Happy Craftin',
Yvonne Metz