Boy February has just flown by! Where did the time go? Well some of it went by with a visit with my Grandson! LOVE when that happens! Then there's my son who plays Baseball & Basketball – well Basketball is coming to a close so it'll be Baseball only. OH and he's umpiring now too! WE are always busy, busy with something! It's great though totally keeps him busy and out of trouble! LOL!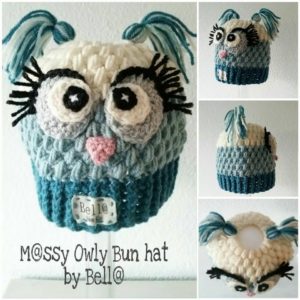 With all this going on this month I managed to do another video.  It's another great pattern by Diana Borgstrom  called "Messy Bun Owl Hat" –  It's absolutely adorable!  Just had to share her Photo too!  This is a child size hat and the pattern can be found on her FB Group Crochet Messy Bun.
Video is below!  I've got more shares for you and hope to post tomorrow. If not next week for sure!
Thanks for stopping by and as always……Happy Craftin',
Yvonne Metz
Vista, CA.