Happy Tuesday All!  Just wanted to post a super QUICK and EASY pattern for all you Messy Bun Lovers! This one was inspired by "Alexis Middleton" (PersiaLou) from her Chunky Style Hat that I saw on YouTube! It is super EASY and Quick to make also very addicting! Great Stash Buster too!  Click HERE for her Video of a FULL hat!  I'm adding the PDF I created and yes another super quick video for those who can't read patterns and are more visual! So get out your #6 Super Bulky Yarn and get Hookin"!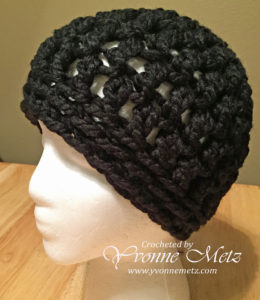 Materials Used:
Yarn: Lion Brand Wool Ease Thick n Quick- Black
Hook size:  P/Q 15.0 mm (Brand Clover Amour)
Stitch Abbreviation:
Ch – Chain
Sl st – slip stitch
DC – Double Crochet
SC – Single Crochet
BLO – Back Loop Only
Note *** ch 2 does not count as a stitch unless noted.
Instructions:  **Ch 10 or 12 – (Depending on how big you want your opening)  join with sl st to form a ring, ch 2
Rnd 1 – 24 DC into the ring, join, ch 2 (24 dc)
Rnd 2 – 5 – DC into each DC around, join, ch2  (24 dc) Measures 5 ½"
**Brim – Rnd 6 – 8:  in BLO SC in each stitch across, join, ch 1 (24 sc)
Finish off and weave in ends
PDF File – Under 30 minute Chunky Messy
*****Please don't sell this pattern as your own as it was modified and shared freely!  You may sell the finished product!
That's it you're done!  Happy Messy Bun Making!  As always, thanks for stopping by!
Yvonne Metz

Save
Save