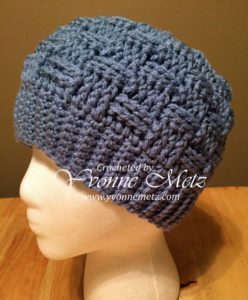 Well another post! What 2 over the weekend??? LOL!  I know right! Well I'm really trying to share more this year.
I wanted to share another pattern from my gal pal Diana from the Netherlands – It's her Basket Weave Hat pattern. Been wanting to make one of these in like forever.  There is also a video I did for this one – which will be posted on the bottom.
I just love these textured hat.  Again if you are looking for her FREE patterns for now they are only posted in the Facebook Group "Crochet Messy Bun".
Well hope you have a great rest of your weekend.  Questions? Don't hesitate to contact me or comment below.
As always thank you for stopping by and…..
Happy Craftin',
Yvonne Metz
Vista, CA.