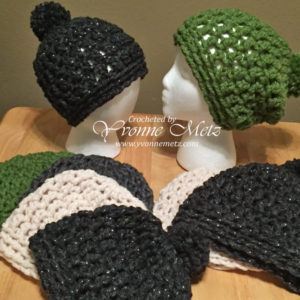 I know it's been way to long since I posted! I totally just have had to  put this on the back burner!
I also have to apologize for those looking for the 18″ Doll Mermaid Pattern and couldn't get it to download your messages went straight to SPAM and I never was notified of your posts! I would of responded sooner had I known!  Now I think it's been fixed! If not please let me know I was able to open it.
So wanted to share FIRST – what I had been working on towards the end of 2016! These Chunky Beanies and Slouchy Beanies – Got this great pattern from "Alexis Middleton" on YouTube.  She's got a great "Cat Hat" video also which I'll share those pics later too!  I've also been making the ever POPULAR "Messy Bun" or "Mom Bun" Beanies – that will be my next post!
I have already added these hats that are pictured to my Etsy shop which you'll find in the right hand corner.
Th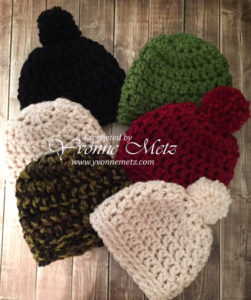 anks for stopping by and I plan to be blogging ALOT more this year as I've got LOTS to share with you all!
Happy Craftin',
Yvonne Metz
Vista, Ca.
Save