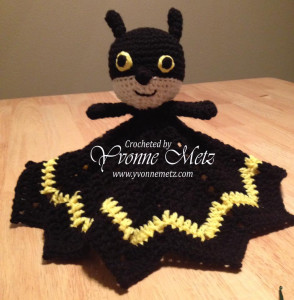 Well Happy "Hump" Day all!  It is safe to say that I am for sure "Hookin" on Hump-Day!
But just had to take a quick break to share the finished product!  Isn't he just the cutest???  I LOVE making Lovey's or Security Blankets and I am super happy with how this one turned out!  On the Original pattern it called for "Safety Eyes" which I didn't have so I ended up crocheting them. But I really like how it came out!  You can find the FREE Pattern HERE! Plus there is a new one I'm going to tackle "Captain America" but first to finish my last "WIP". I had promised myself I would start anything new until they were done.  It's so HARD!!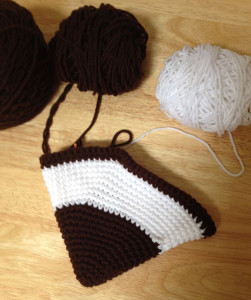 Anyway, thanks for stopping by and here's a peek at what's almost done!  Not sure if it's obvious what it's going to be. Any guesses??
Well need to eat and get back to Hookin', thanks for stopping by and as always….
Happy Craftin',
Yvonne Metz
Vista, Ca.