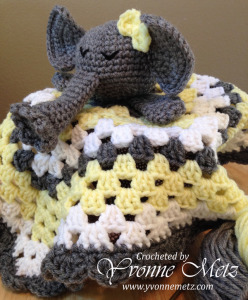 Good Morning All!  Before my day  gets away from me I just had to share the new color scheme for Baby Ella the Elephant.  This is one of most popular crocheted loveys that I sell the most of in my Etsy shop.  I usually make the Pink, Grey and White color scheme.  Well I changed it up and did her in Yellow, Grey and White for a baby shower gift!
I just love how these 3 colors together don't you?  I'll be back a little later with some new things that I've been working on.  Just need to take photos of them.
Have a great  day and as always thank you for stopping by!
Happy Craftin',
Yvonne Metz
Vista, Ca.