Hello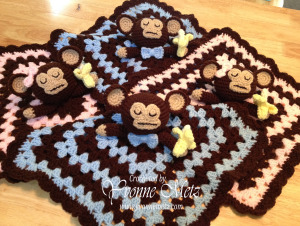 all!  Well I wanted to re-share this post from last month which was on the old blogging platform I was using.
I had an order for 4 of my Baby Loveys that I sell in my Etsy Shop.  The most popular one is the Crocheted Baby Ella the Elephant Lovey, next is this Monkey.  Well I absolutely LOVED how these babies came out and totally missed them when I had to ship them out!  I just love how the faces came out!
Gotta Love the Banana in the hand too!  I was asked if I had a pattern and gave out most of the links but I made the facial features myself and will post later tonight or early tomorrow.
I'll post all the links for everything.
Thanks for stopping by and Happy Craftin',
Yvonne Metz
Vista, Ca.